Soaring local ridges and a hint of what's beyond
Ridge flying
If you have never soared real ridges before, be prepared to enjoy yourself as ours are among the best in the country! A few reminders for novices…
Keep a good lookout at all times … all turns are away from the ridge.
Check height and that all is clear before converting into a thermal turn.
Flying along a ridge looking directly into a low sun is very difficult especially if your canopy is not really crystal clean.
If you have the hill on your right you "theoretically" have right of way but be prepared to take avoiding action in good time just in case the other pilot hasn't seen you.
Hang gliders and paragliders also use the ridges especially in light winds. Their rate of sink is higher than yours, give them a wide berth at all times.
Overtake other gliders inside or well clear above/below.
Never fly in formation without pre briefing.
Fly faster than normal to make sure you can maintain control close to a ridge face or in turbulent conditions.
Keep well clear of cloud anywhere near a ridge. Orographic cloud can form extremely rapidly. Turn towards low ground before opening the airbrakes.
Unless you are 100% sure you can see around a rain shower and can avoid it by flying to the other end of the ridge, land. Showers have an nasty habit of expanding as they approach a ridge, especially if they are between you and the field.
Snow showers – flying in snow gives you about 50 yards visibility.
Don't "beat up" hill walkers, many do not like gliders near them and they are entitled to enjoy the peace of the countryside.
If the ridge lift starts to weaken for any reason, (distant wave, wind strength decreasing or changing direction), return to the field before you get too low. Always have a clear idea of what your minimum height should be.
no images were found
Main ridge
This stretches from Y Das, just east of the airfield, to Hay Bluff to the north – a run of 6 km. This ridge will work in the lightest of winds from west round to north and reaches a high point of 2660 feet AMSL about half way along its length where a trig point is clearly visible.
Hang gliders and paragliders use this ridge so take care to give them plenty of room.
If you get too low on the ridge, there is a large common on the north west side of Hay Bluff which can be landed on in parts.
There is always the option of heading out into the Wye Valley some 500ft below where there are easier fields.
Between the main ridge and the river Wye is the lower ridge… not usually flown but can be useful under a very low cloud base or when returning from the north east.
Cwmdu Valley
This run works best in a south westerly. The run stretches from the "south bowl" behind the club all the way down to Table Mountain above Crickhowell.
Early solo pilots are permitted in the south bowl but only those holding a Silver badge should go beyond the "burnt patch". Care needs to be taken on this run as Mynydd Troedd (1,997 feet amsl) is to the south west on the other side of the valley and this causes a lot of lee turbulence lower down. The nearest part of the valley is un-landable.
If you are flying the Cwmdu ridge and get below ridge top height, you may well experience a lot of turbulence and sink together with wind shifts caused by valley funnel effects. If you do get low and start to run in to trouble, remember that the Cwmdu Valley is un-landable and the way to safety is to head south towards Tretower at the southern end of the valley. The ground drops all the way so there is normally no problem as the Tretower area is about 600ft below airfield height.
When the wind is more southerly, it is possible to track along the Usk Valley past Crickhowell towards Abergavenny and the Sugar Loaf. There are plenty of good fields in the valley so landing out is not usually a problem.
Llangorse Ridge
This extends from Mynydd Troedd (1,997 feet AMSL) south to Bwlch and works well in wind directions from north west round to south west.
It is often possible to soar this ridge when cloud is halfway down the main ridge.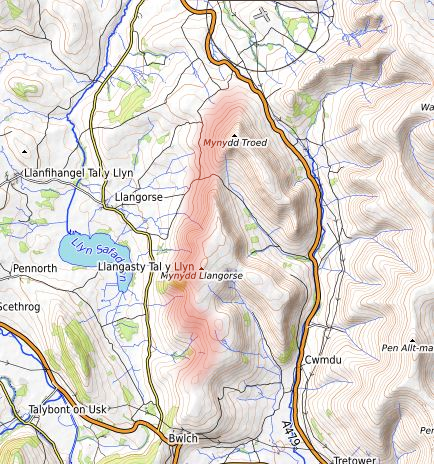 Hay Bluff to Pandy
This extends from Hay Bluff all the way down to Pandy in the south … a run of 16km. This ridge works well in north easterlies and is reached by taking a 2,000ft tow towards Hay Bluff and a glide on to the ridge at Black Hill. Fly south to the end of Black Hill and then drop back on to the superb ridge which usually works well all the way down to Pandy. If things do not go to plan, the fields get bigger and better towards Pandy.
To return to the airfield from this ridge, you will have a tail wind and a medium performance glider usually makes it back from Hay Bluff with 1,500ft above site … that is just above hilltop height. Route back well clear of the slope to avoid the largest areas of sink.
So far we have described the local ridges … many pilots do not venture beyond these but they are missing the best bit! From almost anywhere on the local ridges, you can see the Brecon Beacons and the highest point Pen Y Fan standing out at 2,907ft amsl. If conditions are right, give in to temptation and fly the Beacons! It is beyond the scope of these briefing notes to give a detailed rundown of soaring the Beacons … John Bally's booklet "Mountain Flying Talgarth" is a very useful source of info if you can get hold of a copy.
Soaring the Brecon Beacons
This generally possible in wind directions from north west round to north east. Ridges exist from the Blorenge in the east near Abergavenny and as far west as the Carmarthen Black Mountain and the castle of Carreg Cennen. It is possible to reach the Beacons in a north easterly from Pandy jumping on to the Llangattock escarpment and then heading west.
Generally however, the Beacons are flown in a north westerly when the jump is made from the south end of the Llangorse Ridge by way of the Bryn tracking north of the Allt and on to the ridges running up to Pen Y Fan. The thrill of running up towards the summit of Pen Y Fan with all the hill walkers peering down at you just has to be experienced .. it is fantastic! Build up a bit of height with few turns in the bowl, a final glance down at the crowds on the summit and off to the west to ….. then it's up to you!
In the words of Ivor Shattock who pioneered mountain flying in Wales – "It's beautiful countryside, but it gets better, so keep going".